A BOLD Approach TO LIGHTING THE MOUNTAIN HOME
In design, as in life, there's usually a high correlation between commitment and success, and today's large mountain residences offer a great example of that.
Most luxury mountain interiors, whether rustic, contemporary, or somewhere in between, celebrate authentic materials and touchable textures: think reclaimed woods, hand hewn stone, sumptuous hides. But often the decorative lighting selection brings that textural theme to an abrupt halt and detracts from the overall design. Sound familiar?  Indeed, it's not always obvious how to incorporate engaging textures into lighting design without adding unwanted visual weight to a space. Needless to say, we've tackled this challenge for several design clients over the years. One winning approach is shown below.
---
THE DESIGN CHALLENGE:  Today's luxury mountain homes with open floor plans, high ceilings and richly layered textures pose a difficult design dilemma. These spaces yearn for bold, voluminous lighting that adds an element of sculptural drama, while balancing the weight of surrounding interiors. So fixtures must command a lot of space without adding the mass and visual weight normally associated with large-scale lights. The typical 'go-to' fixture styles — iron chandeliers, soft-hued fabric drums, multi-port pendants, and the like —  usually fall short on one or more of these dimensions.
THE SOLUTION  For a few recent projects, our custom team designed contemporary silhouettes featuring loosely assembled geometric forms, and deployed an airy palette showcasing authentic handcrafted materials like artisan kiln fused glass and woven mesh. Steel is incorporated sparingly as a structural or decorative element, often with hand distressed or asymmetrical details that make the fixture command more visual space while adding a thoughtful element of contemporary edginess and surprise.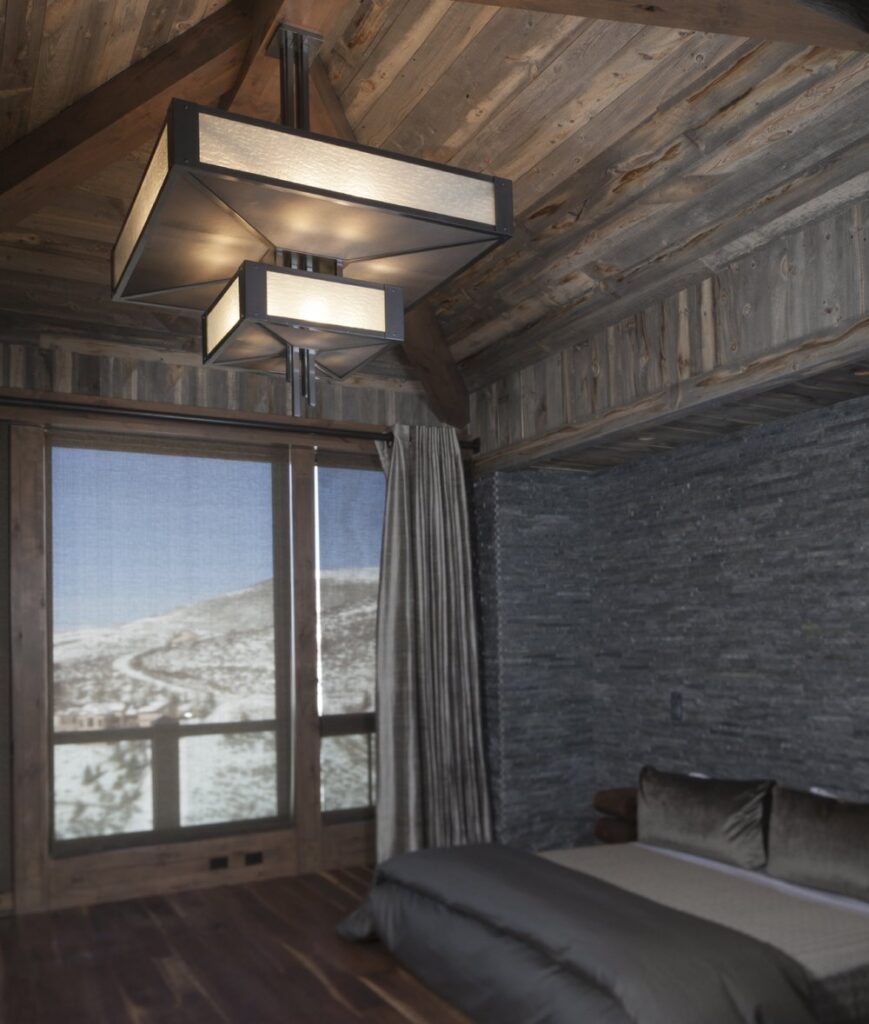 Featured at top: the master bedroom and bath suite of a Deer Valley residence with interiors by Ontario Design. Featured above: a bachelor's bedroom and great room in Vail with interiors by AP Resort Concepts. 
---
Here's a closer look at some hero fixtures we've designed for these and similar projects. Each shows an interplay of light colored and textured lens materials with mesh diffusers and accents in steel and glass, but design details can pull the overall style aesthetic in different directions — Craftsman, industrial, contemporary and so on.  Steel is used strategically to underscore clean lines and incorporate decorative elements that make silhouettes appear larger without adding visual weight. Simpler designs extend the look into sconces, smaller ceiling lights and outdoor fixtures.
---
We leave you with a couple images showing members of our fabrication team at work on one of these fixtures. Of course, these talented artisans in our metal and glass shops are the heart and soul of Hammerton. They bring both our extraordinary design and our 'Ten Inch Rule' to life in a manner that is unmatched in the lighting industry.
Want to learn more? Give us a call today!