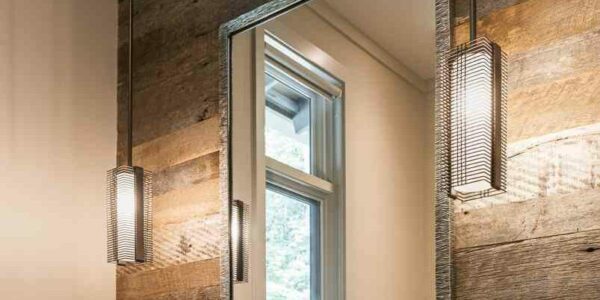 Bath
Bathrooms are the most utilitarian spaces in the home, but bathroom lighting certainly doesn't have to be. In fact, thoughtfully designed bath light fixtures can elevate bath spaces to sanctuaries.
Hammerton Studio offers a wide selection of decorative wall, vanity and ceiling solutions for bath and powder room lighting. Marrying luxurious materials and eye-catching details with functional illumination, these handcrafted light fixtures pack surprising design intrigue for their economical size. Our double glass sconces can be mounted horizontally or vertically, so they are ideal go-to solutions for vanity lighting. And for bathrooms with lower ceilings, our blown glass flush mounts add surprising sparkle and visual interest.
Image: Downtown Mesh pendants
Designer: Allard & Roberts l  Photography: Todd Crawford.
Showing all 18 results