High Point Market Recap: Designer TOP PICKS
Last week's market — Hammerton's first trip back to High Point in a decade — was a tremendous success. Hundreds of designers visited our showroom, several of whom were either new to the brand or entirely unaware of our industry-leading custom capabilities, our contemporary glass and mesh designs, our quick-ship Hammerton Studio line, or the fact that every Hammerton products is handcrafted by our artisan team here in the USA.
Here are the ten fixture designs that drew the most interest among show attendees. Do you agree with their picks? Any you would add? Write a comment below and let us know!
59" W, with Integrated LED
By Hammerton Studio
With the successful introduction of the Bezel collection earlier this year, we received dozens of requests for an oversized version of our 6-Gem linear suspension. This new size — 15″ longer than the original, and with 9 Gems — is quickly becoming the most popular fixture in the line. It's available in three glass colors and six finishes.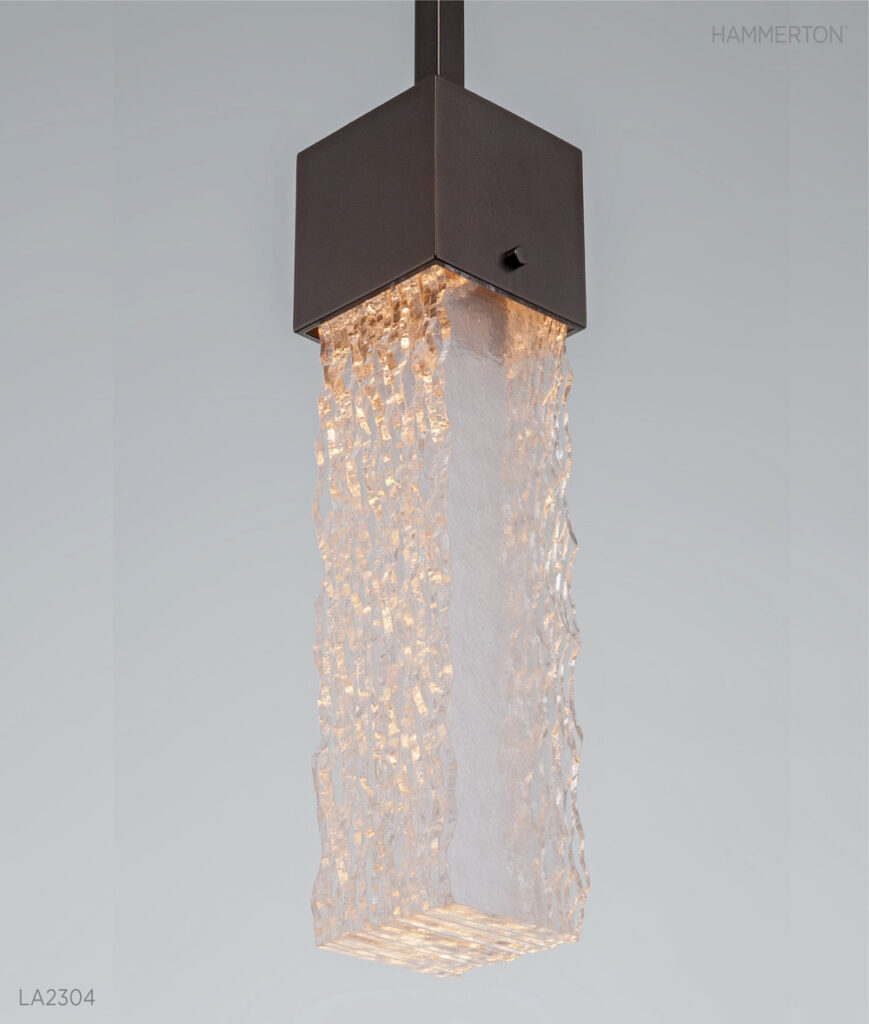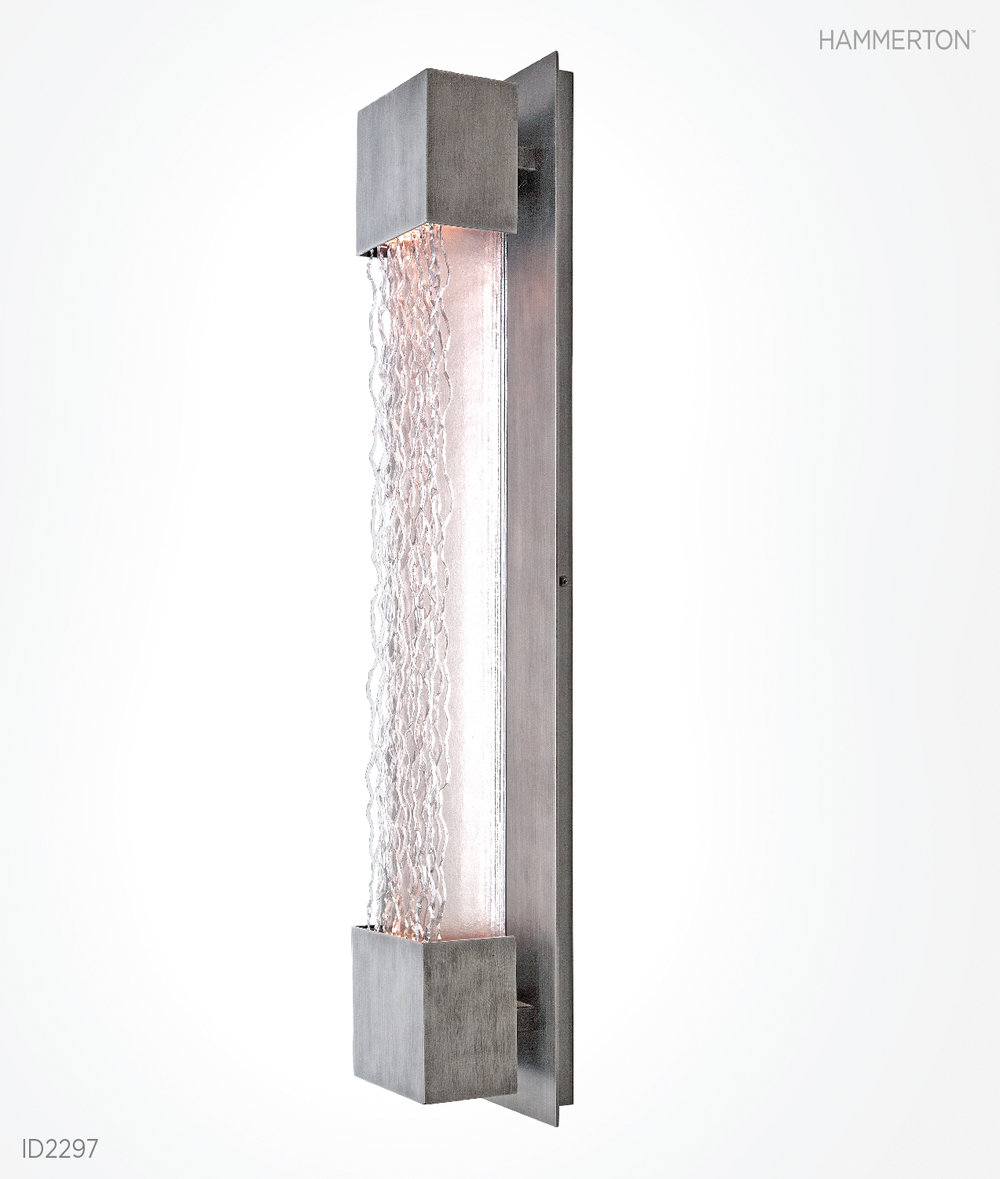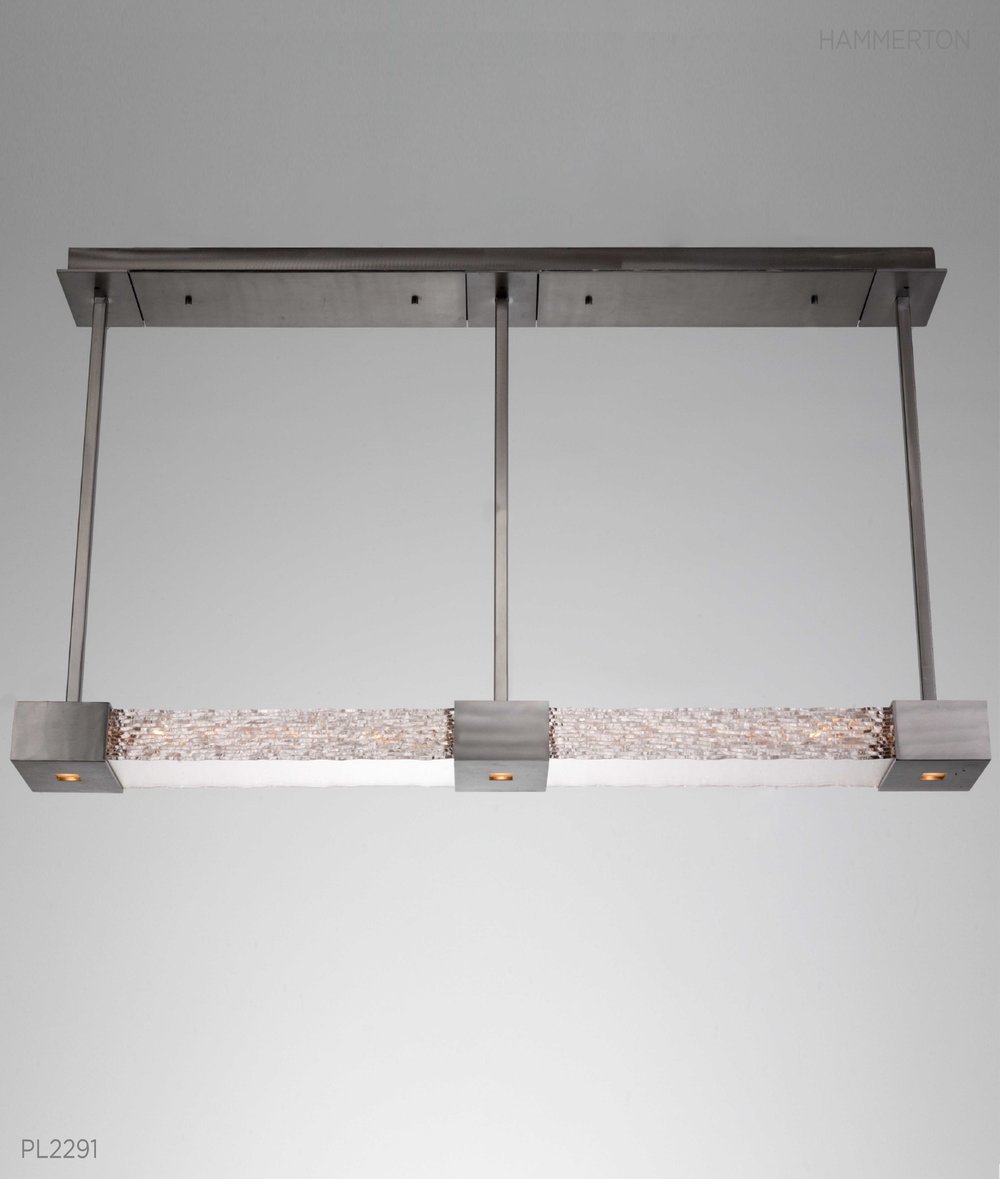 #2:  Chiseled Glass Designs
Pendant, Sconce & Linear Suspension, with Integrated LED
By Hammerton
These latest Hammerton designs showcase our design team's penchant for transforming common materials into uncommon works of art. Showroom visitors couldn't resist  touching the chiseled crystal sheet glass, and were delighted to discover that the pendant's glass layers are suspended independently. One designer commented, "They move like a fan — how cool is that!"
#3:  Beacon Outdoor Arm Sconce ODB0043-0A
By Hammerton Studio
This bold interpretation of a traditional outdoor arm sconce turned many heads at market. Several showroom visitors noted that the chilled glass housing and exposed vintage bulb works well with today's popular architectural styles. The Beacon is also available in a torch sconce style.
#4 Optic Blown Glass Ceiling Fixtures
By Hammerton Studio
What's not to love about optic blown glass? Its retro and modern, all at once, and the way the light dances through the glass is mesmerizing. Hammerton Studio offers two styles of optic glass bowls, each available in a wide selection of ceiling and wall fixtures. Shown above is the Ellisse.
54″ W, In Clear Seeded Glass and Dark Art Glass
By Hammerton
We introduced this fixture way back in 2006, and it's still the top selling linear suspension in our Hammerton Contemporary collection.  No surprise, based on the market response! It can be ordered in clear seeded glass, as shown above, or in fine mesh.
By Hammerton
We love both mesh and glass — and as it happily turns out, the two materials go very well together. This triple drum — shown above in fine mesh and frosted crystal kiln-fused glass — has become a 'go-to fixture' for large spaces that need a little drama. Showroom visitors couldn't help touching this fixture!
#7 Urban Loft Trestle Linear Suspension PLB0026-0A
45" W, In Bronze Granite Kiln-Fused Glass
By Hammerton Studio
Attendees loved the mix of textured art glass and decorative steel elements in this Craftsman-inspired fixture. Offered in 4 glass styles and several finishes, the Trestle complements a wide variety of interiors.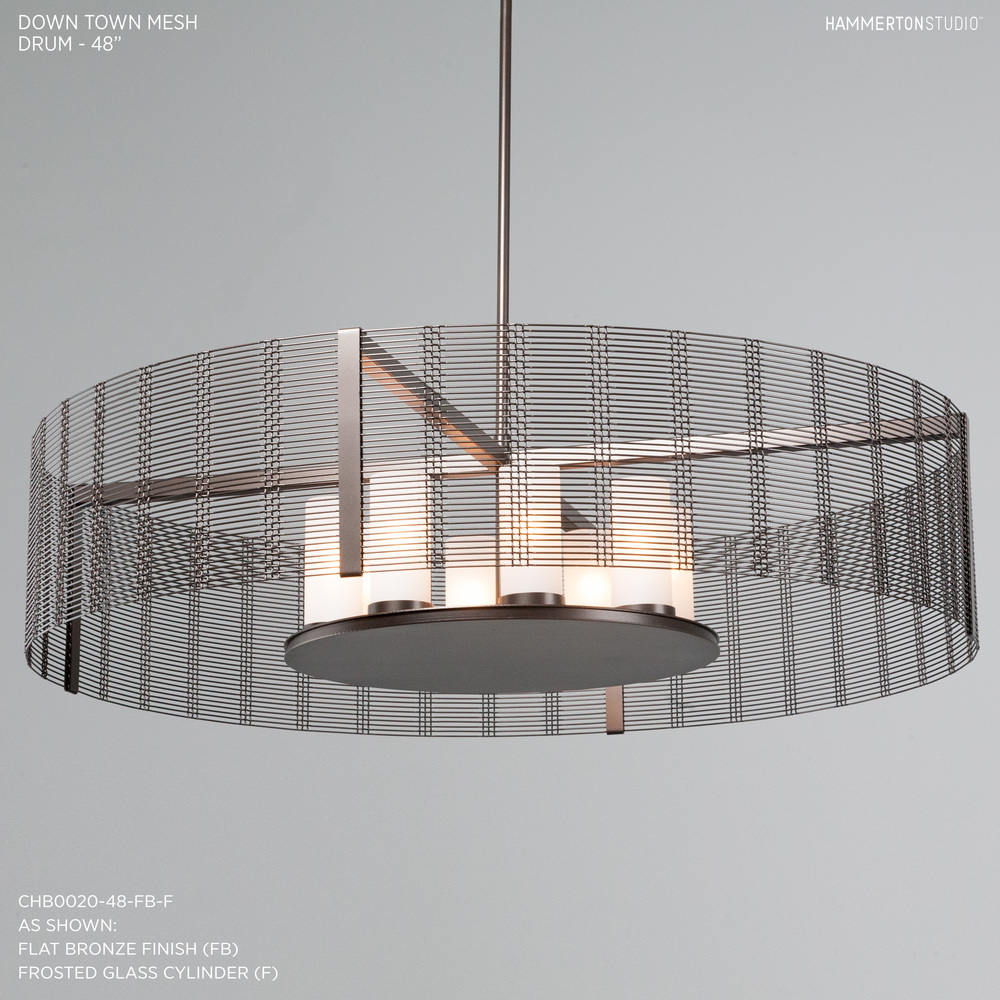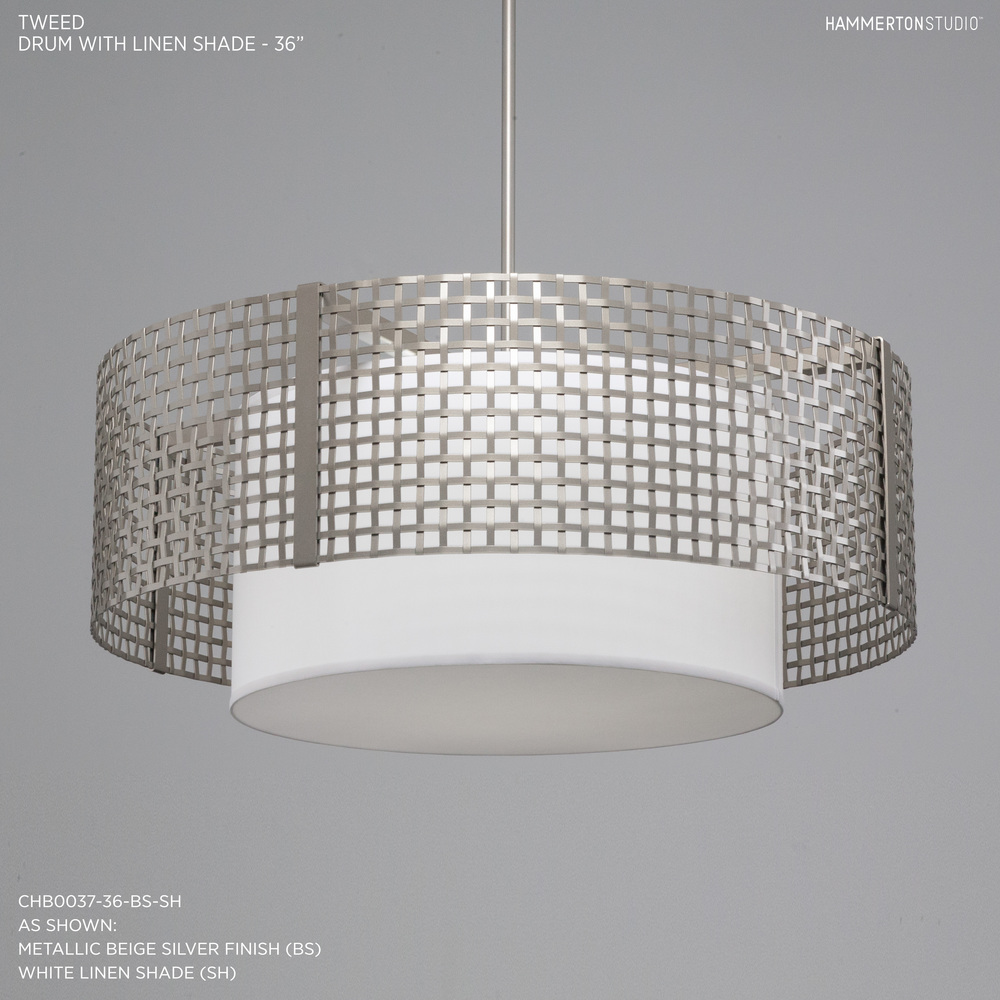 #8 Downtown Mesh & Tweed
Ceiling, Wall & Outdoor Fixtures
By Hammerton Studio
We began working with mesh a decade ago, and mesh designs are still among our most popular today. Attendees expressed tremendous interest in both our Downtown Mesh and Tweed, each shown in a few fixtures above. Who would guess that such a utilitarian material could transform the look of a light fixture?
#9 Double Box Outdoor Sconce ODB0027
18″ H, In Mesh or Seeded Glass
By Hammerton Studio
This fixture received rave reviews for its versatility — "I could use it everywhere!" was heard more than once.  All the Hammerton Studio outdoor fixtures got high marks for their UV and corrosion resistance and lifetime warranty.
#10 Chateau Chandelier CH9036
By Hammerton
Indeed — as many showroom visitors remarked — great design never goes out of style. This chandelier, originally designed by Hammerton co-founder Levi Wilson over 2 decades ago, is still one of our top selling designs.