FIVE DIMENSIONS OF CHATEAU STYLE
While the term "Chateau style" connotes images of fairytale-like 16th & 17th century castles dotted along the sylvan Loire River in central France, the aesthetic is  more broadly representative of  a mix of late Gothic and Italian Renaissance influences. Collectively, these gave birth to a paradox of architectural and cultural sensibilities that defined the French Renaissance: stateliness and playfulness, symmetry and frivolity, sophistication and whimsy, restraint and excess.
It's no wonder, then, that today's interpretation of Chateau style encompasses a wide array of looks. Our Chateau collection pays tribute to this range, and we showcase five dimensions below.
---
Crystal Accents
Largely associated with classic Chateau style, crystals weren't broadly popularized in the decorative arts until the 17th century reign of Louis XIV (who was, in fact, the original owner of the 45-carat Hope diamond). Hammerton Chateau fixtures use crystal accents in several different styles, as shown here.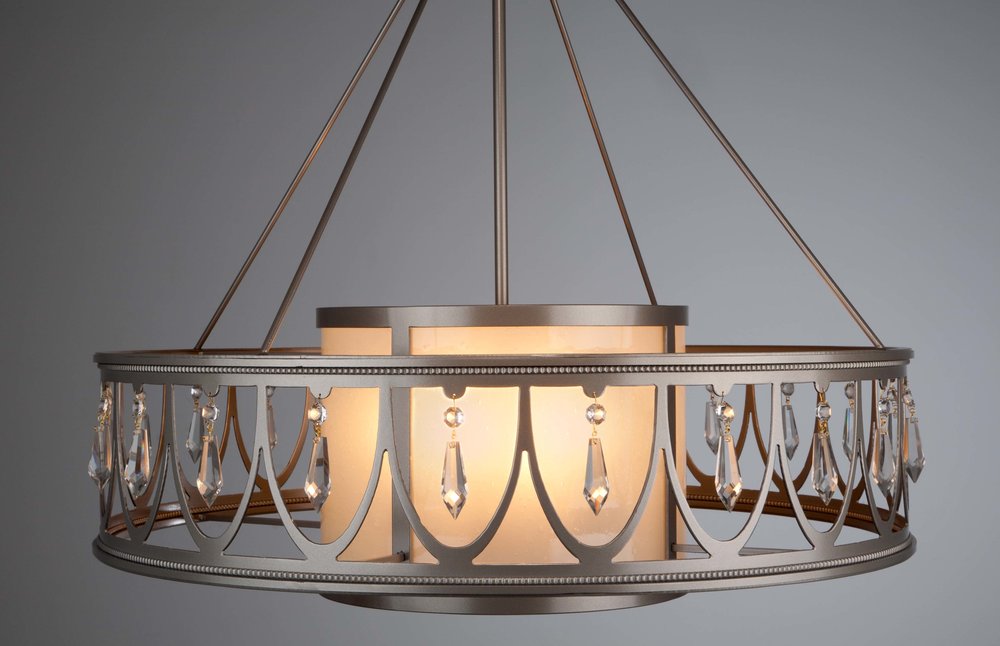 Above and below: an updated take on Chateau style in a trio of fixtures combining classic elements of crystals and beaded metalwork with a contemporary silhouette.
---
ORNate MetalWork
Decorative arts representative of the Chateau era glorified the elaborate ornamentry popularized during the Italian Renaissance, with details like scrollwork and egg-and-dart motifs reaching back to classic Greek and Roman architecture. Hammerton Chateau fixtures broadly interpret these elements to suit a wide range of interior styles, as shown here.
---
Organic OBSESSION
---
TIERED DRAMA
The multi-tiered arm-laden rings of large scale Chateau style light fixtures hail the symmetry, proportion and geometry of the era's architecture, and reflect its obsession with an ordered regularity of parts. Hammerton designs incorporate this aesthetic in a wide range of interpretive styles, from Gothic-inspired to contemporary. Most are offered in both single and multi-tiered fixtures.
---
Outdoor
Exterior lighting is a more modern invention, but several fixtures from the Hammerton Chateau collection bring the same decorative elements and detail to the great outdoors. All are available in high performance AAMA 2604 architectural powder coat finishes, which provide the highest standard of UV and corrosion resistance.
See something of interest? Call or email your Hammerton representative..
---