Dramatic Dome Designs
The dome style of light fixture has been around as long as the lightbulb — literally.  In the first years of the 20th century the earliest commercial electric bulbs were scarcely brighter than a gaslight flame, so housing multiple bulbs together within a single glass dome was a common sense solution for achieving greater light output. The rest, as they say, is history: dome fixtures quickly became the utilitarian default for overhead lighting in everything from commercial warehouses to closets to cars.
Today, the humble dome enjoys higher status as the interior design world has embraced its decorative potential, and Hammerton celebrates this marriage of design and function across a wide range of styles and forms. We fabricate in blown glass, kiln-fused glass, rawhide, acrylic and other materials, incorporating decorative accents such as blown glass finials, organic silhouettes and decorative metalwork. Below are a few examples.
Above, a simple frosted acrylic dome creates a warm and welcoming entryway. Pins and strapping in hand-forged steel surround the dome, quietly nodding to the home's Craftsman  style. 
Above: A Lake Tahoe estate features two very different approaches to the traditional dome fixture, both from the Hammerton Craftsman collection.  At left is the octagonal CH8095, nearly 4 feet in diameter, in light art glass with a Stippled Antique Iron finish. At right is the CH8104, 27″ in diameter, in light acrylic and a Brushed Antique Iron finish. Photos courtesy of Dennis E. Zirbel, Architect.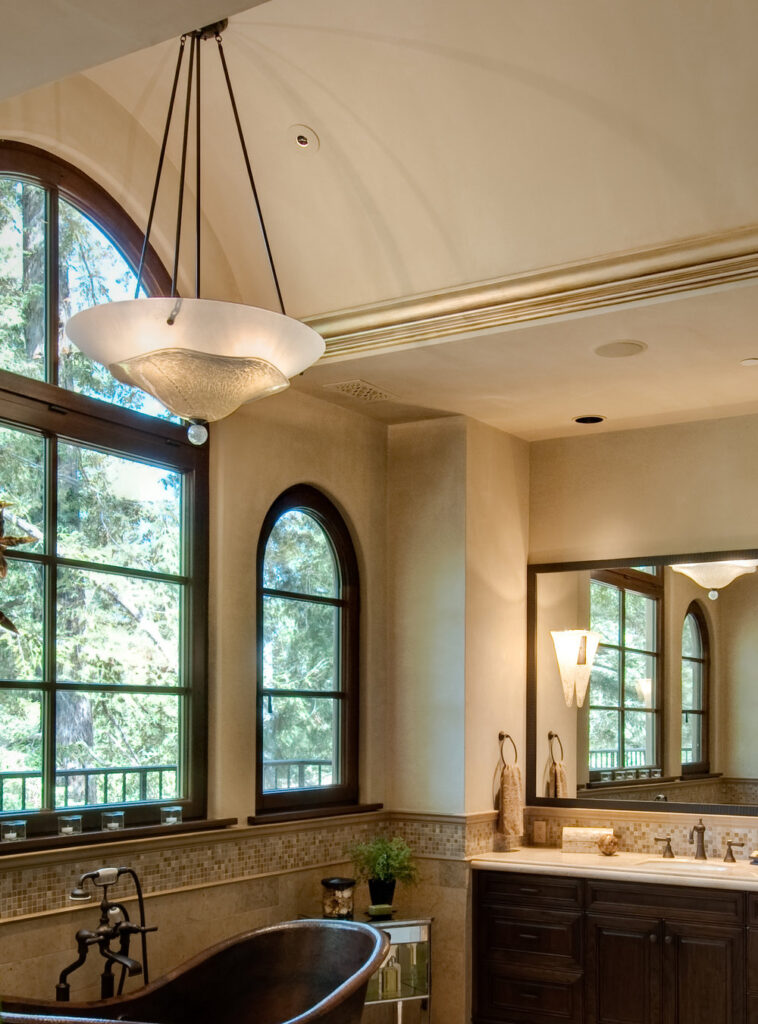 Blown and kiln-fused glass can dramatically elevate the style quotient of a dome fixture. Without a metal housing the fixture is often referred to as a bowl, but the functional impact is the same. The bowl light shown in the beautiful bathroom above makes decorative use of both blown and kiln-fused glass and is accented with an elegant  blown glass finial.  Photo courtesy of Alison Whittaker Design, Inc., Saratoga, CA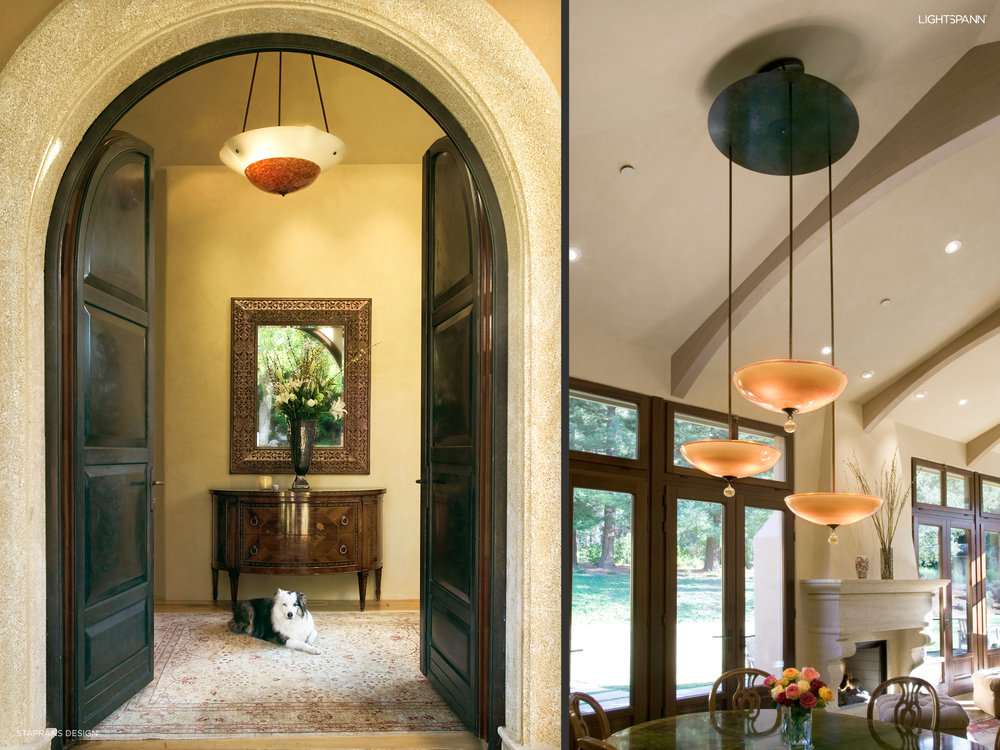 Above and below, bowl designs from the Lightspann collection shown in various settings. The entry fixture shown above left is a modified CHA0015, with a frosted bowl and Tiger Eye funnel. At right, a dining chandelier featuring three CHA0016 bowls in Sea Tide blown glass with Iridized Gold edge wrap and clear ribbed ball finials. In the wine cellar below, a custom fixture in kiln fused Frosted Crystal glass and hand sculpted steel. Photos courtesy of Staprans Design, Portola Valley, CA.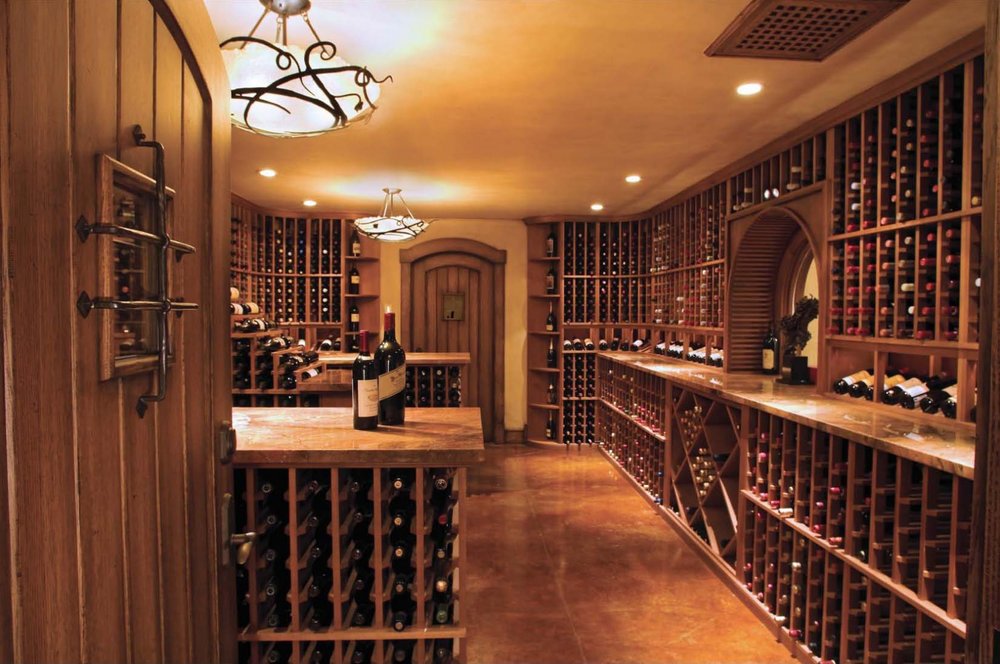 Above, dome chandeliers from the Hammerton Chateau collection extend an old-world aesthetic through this traditional European style home. Left and center are two modified versions of the CH9109, at right is a CH9066.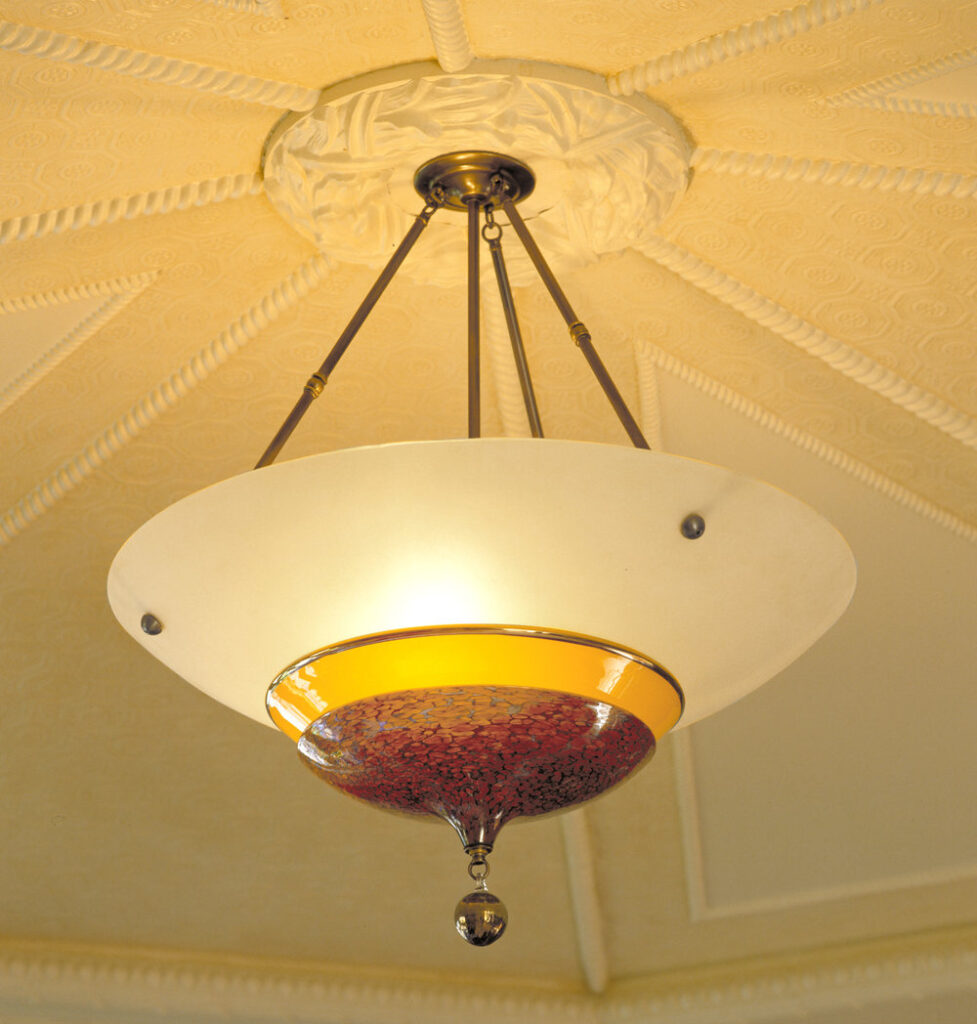 Above, a CHA0014 from the Lightspann collection. With 3 layers showcasing frosted kiln-fused glass, Aurora Gold blown glass with an Iridized Gold edge wrap and a Tiger Eye funnel, this fixture is truly a work of functional art.