BATH & VANITY: TEXTURED GLASS AND TEMPEST COVER SCONCES
Not all sconces are made equally. But extraordinary design coupled with the right materials and finishes can yield light fixtures that offer long-lasting beauty and durability. Two of our Hammerton Studio collections feature sconces carefully crafted and damp-rated for enduring style and quality in bathroom designs. Both collections can add a surprising touch of fresh sophistication to contemporary and transitional bathrooms at very accessible price points.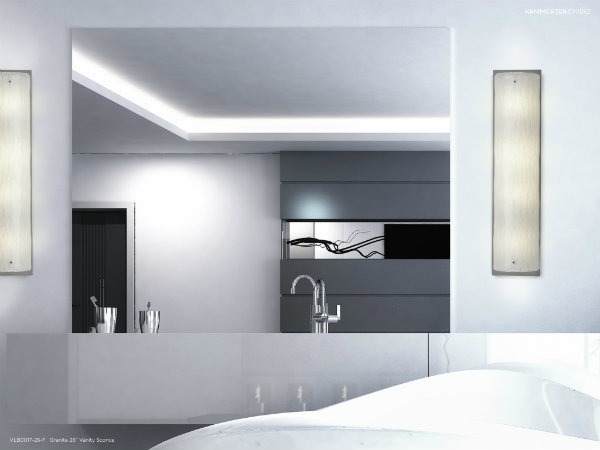 Glass is a popular material for in the bath, but rarely do you find glass fixtures with unique textures and details that add style and interest to bathroom designs. The Hammerton Textured Glass Collection includes a variety of kiln-fired glass cover sconces in four beautiful handcrafted textures. One can be installed horizontally above a mirror, or two can flank a vanity to add the perfect amount of illumination and artful appeal to luxury bathroom designs. The Tempest Collection features its stunning swirling steel & glass design in two cover sconces that bring an urban sophistication to bath spaces.
Learn more about how to incorporate Hammerton lighting into your next home design project by contacting our Salt Lake City office at 801.973.8095, or by contacting a team member directly.