ARTISAN SPOTLIGHT: JAMES DEAN
Each Hammerton fixtures tells a story about the artisan who crafted it, and this could not be any more evident than with the pieces produced by one of Hammerton's lead artisans – James Dean.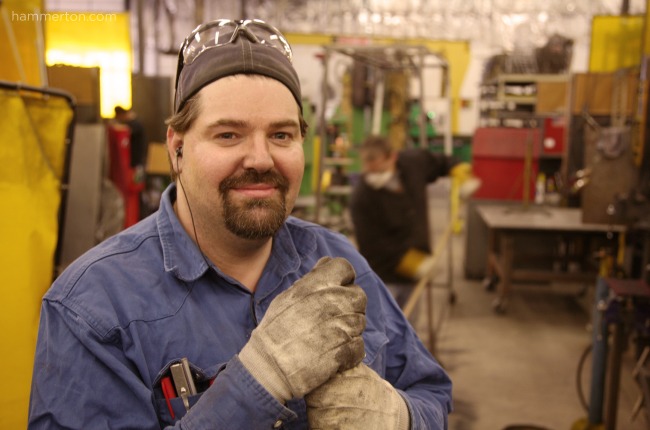 With a passion for history, heritage and handcraftsmanship, James cringes at the thought of anything less than authentic. One of his favorite pastimes is evidence of this: he is an avid participant in Mountain Man Rendezvous gatherings throughout the West. These wilderness excursions give James the opportunity to exercise his metalworking and sculpting skills while stepping back in time and relying solely on the tools of his hunting and gathering predecessors of the 19th century. In his day-to-day life, James even prefers what most of society would consider primitive forms of communication: "I don't use a cell phone, and probably never will," he has said.
Born and raised in Salt Lake City, James was first introduced to metalworking in shop class. Before Hammerton, he fabricated .22 pistols for Browning. Ultimately, his passion for authentic design and craftsmanship led him to the lighting world. James was one of the first artisans hired by Hammerton, back when the business outgrew its original shop in a residential garage and expanded beyond its two founders. Today, he's been producing authentic light fixtures for Hammerton for over 13 years. His mastery, artistry and enthusiasm for the craft are undeniable.
"Hammerton allows me to combine my passions for steel, sculpture, and heritage," James says, "Every day at work is an adventure. One day it's a large Log & Timber chandelier dripping with pine cones, the next it's an 8-foot long contemporary mesh dining light."
His "authentic" approach to life is translated into each Hammerton fixture he crafts. While James can make anything (and we really mean anything) out of metal, he really shines when it comes to the defining details of a fixture. He's also known for his jig making and large-scale custom fixtures.
James recently fabricated five 13′ sentry pendants for the 3-story entry hall of a Las Vegas residence. Take a look in the gallery above to see James in action.