ARTISAN SPOTLIGHT: DALE
As head of our prefabrication team, Dale truly embodies our company's commitment to continuous improvement and innovation. Dale has been loyally committed to Hammerton, our employees and customers for over 15 years.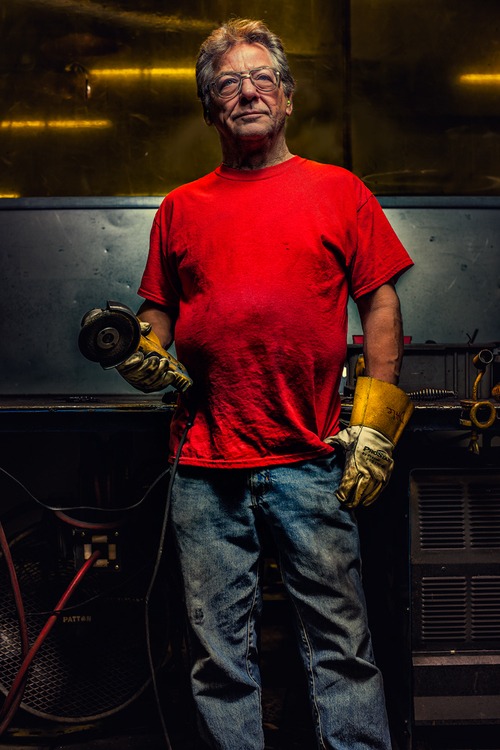 Originally from Indianapolis, Dale grew up in San Diego and moved to Salt Lake City in 1972 to work in his friends' grandfather's lighting fabrication shop, called New Art Lighting. Dale first began as a painter at New Art but gradually worked his way into fabrication after going to school to learn how to weld. He ended up running the welding shop and stayed at New Art for 25 years.
When Dale began working at Hammerton in 1998, he was one of fewer than 10 fabricators. Dale says, "It was a whole new environment for me at the time because everything here is built from scratch. It's definitely more interesting work, though, because it involves a lot of creativity and problem solving."  After five years in fabrication at Hammerton, Dale was promoted to team lead. He has trained dozens of shop employees, including many of our star fabricators.
Dale personifies our company ethos of embracing change and striving for continuous innovation. Dale is constantly recommending and implementing aesthetic and functional improvements in processes or products to achieve higher quality results.
Dale loves the freedom to be creative and problem solve with his work at Hammerton: "I love the wide variability of the work that enables me to work on a lot of different projects and tackle a lot of problems." But he also says that his favorite thing about Hammerton is the people: "They're enormously talented, colorful, and very entertaining. And no one walks in the door without a really good work ethic."