25 STATEMENT CHANDELIERS FOR 25 YEARS
2020 marks Hammerton's 25th anniversary, and as we contemplate this milestone year we're starting to look at everything in its context. All of us are particularly grateful to our stakeholders — including employees, customers and business partners — for the tremendous impact they have had on all dimensions of our business over the last quarter century.
The most important dimension that's fueled our enormous growth is design innovation. So we thought we'd take a moment to assess our design accomplishments over 25 years in the context of the single product category that originally put Hammerton on the map: large scale chandeliers.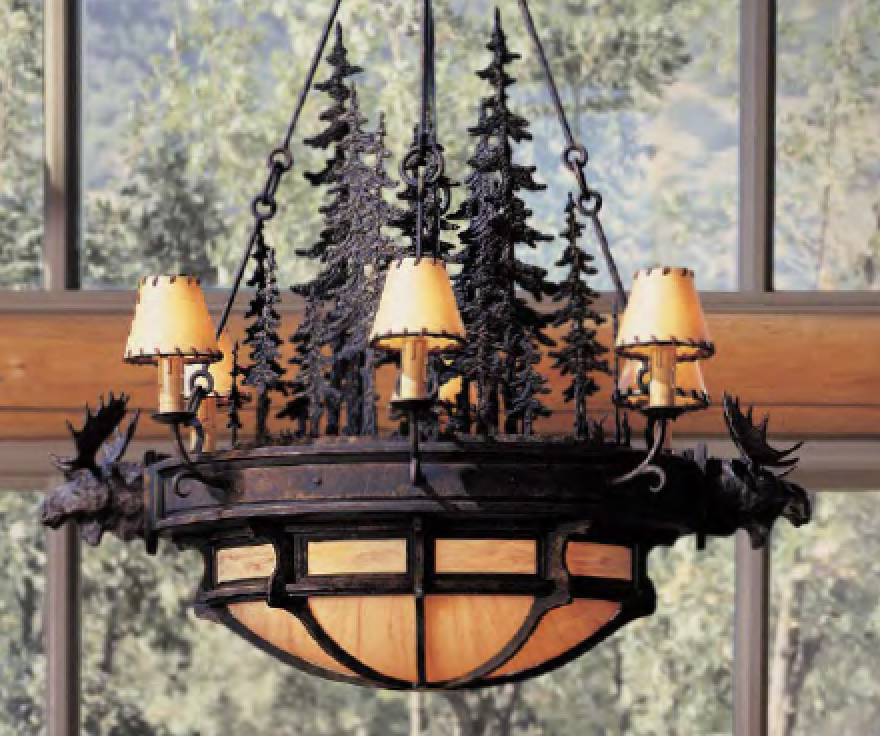 Back in the 1990's, Hammerton founder Levi Wilson astutely identified demand for a new style of decorative lighting in burgeoning ski resort areas across the west. Luxury homeowners in these markets yearned for beautifully handcrafted, nature-inspired steel fixtures that brought the outdoors inside and elevated lighting to a sculptural art form.
Hammerton's Log & Timber collection, showcasing tree boughs, pine cones, acorns, elk heads and landscape silhouettes, all meticulously crafted in hand-sculpted steel, became the hallmark of luxury lighting in the mountain west into the 2000's. The CH6026 (above) artfully combines these elements with lashed rawhide and art glass in what was the most popular large-scale Log & Timber chandelier of that era.
---
Earlier chandelier designs also addressed the luxury market's growing fascination with the sophisticated metalwork characteristic of old world European estates. Delicate fingertip scrollwork and hand-sculpted steel detailing provided a fresh alternative to the standard crystal chandelier, and was also better suited to the larger scale requirements of mountain resort homes. The two chandeliers shown above from our Chateau collection beautifully capture this aesthetic.
---
Levi, who is now the company's head of design, identifies nature as the foundation of great design. Indeed, while Hammerton designs have evolved to embrace today's more contemporary and modern styles, our aesthetic is still firmly rooted in the natural world. As these two fixtures demonstrate, nature provides a broad canvas for design exploration.
---
Our design work has taken inspiration from a wide range of stimuli. For example, these two custom fixtures — along with 15 other designs created exclusively for a large Cape Cod home — re-interpret classic maritime silhouettes. Interesting elements including prismatic lighthouse glass and two-tone finishes evoke a subtle nautical aesthetic that's perfectly suited to its New England surroundings.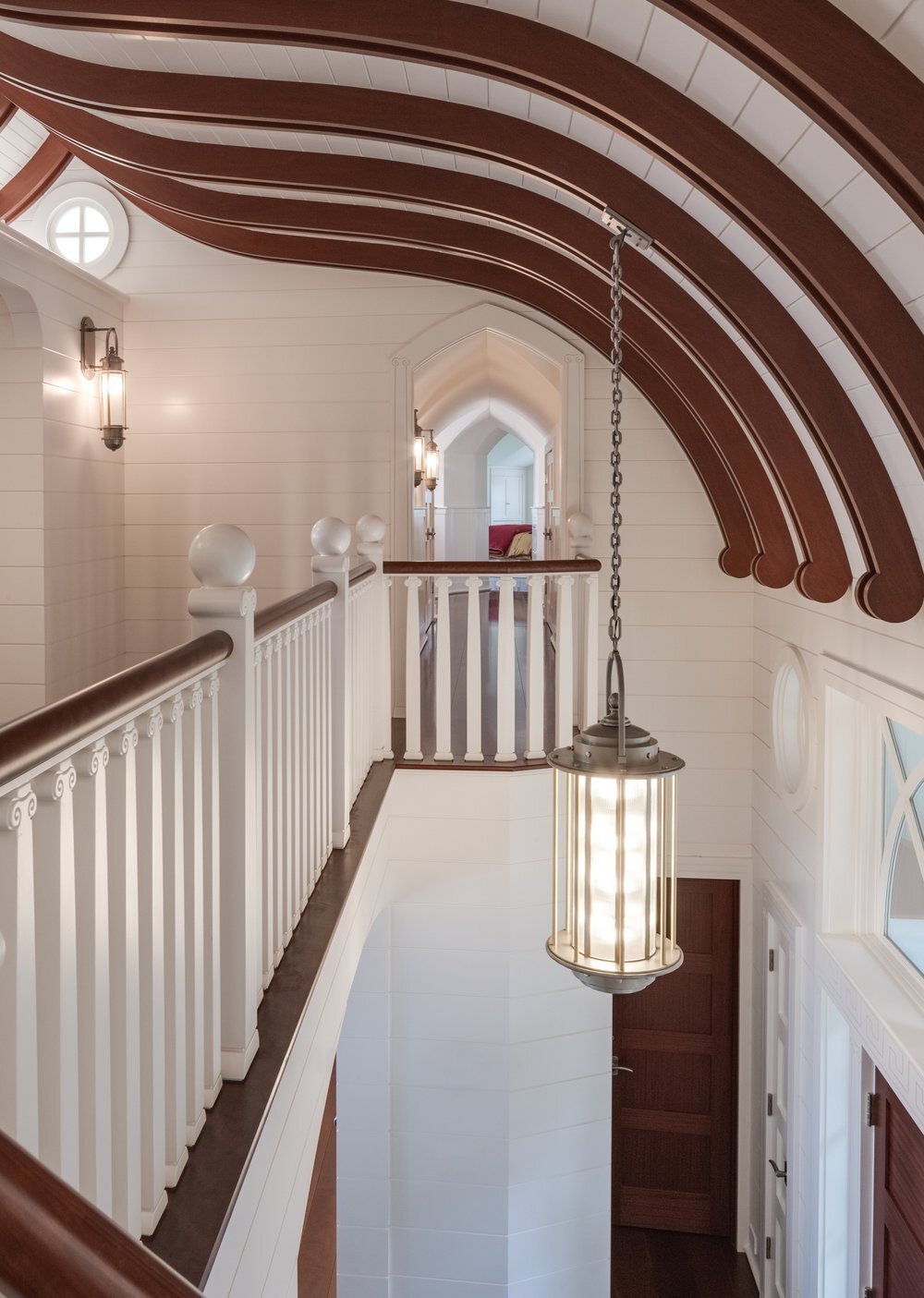 ---
Our design team finds equal inspiration in the more mundane. Case in point: these popular chandeliers we fondly call 'the spring light' (top, from the Seriph collection) and 'the crankshaft' (above, from the Contemporary collection), capture the design intrigue of common machine parts in two whimsically sophisticated fixture designs.
---
Simple chandelier designs embracing straightforward geometric silhouettes never go out of style. They scale easily to fill just about any space, and they provide a versatile canvas for mixing materials and finishes. The three designs shown above sell as well today as they did when they were originally introduced several years ago.
---
Of course, we also recognize the aesthetic power that can result from reimagining simple fixture silhouettes, such as the humble drum. We've always thought that this workhorse fixture deserves much more than a white linen shade. By mixing, matching and layering materials in surprising ways, drums can elevate interiors rather than simply blending into them. Over the years we've created thousands of unique drum designs in single, double, triple and quadruple layers and tiers, in sizes up to ten feet in diameter.
---
The industry adage ''design is in the details' is beautifully captured in the juxtaposition of these two linear chandeliers. While both take obvious inspiration from the natural world, their executions achieve two very different results. The Verdi chandelier above blends elements of both geometric and organic design with integrated LED to achieve a modern interpretive aesthetic, while the CH7175 below deploys hand-saged steel boughs, rock crystals and candelabra lighting to more realistically represent traditional organic style.
Our design process at Hammerton often starts with materials, and kiln-fused glass is one of our favorites. As shown here, the kiln process can take simple sheets of glass in a myriad of design directions. The Odeon chandelier, at top, contrasts two visually intriguing glass textures in a sleek modern design, while the CHA2028 evokes a more natural aesthetic. Each piece of glass in this floating leaf chandelier is slumped into a hand carved mold to pick up the leaf veining, and is then reintroduced to the kiln to create the organic shape.
A fun fact about kiln-fused glass: it can pick up textures as subtle as a fingerprint.
---
Of course, blown glass is one of our favorite materials as well. Surprisingly, it's our expertise in metal that enables us to create unusual works in blown glass like the ones shown here, since we design and fabricate all our metal jigs and tooling in-house. The scale of these fixtures is notable: the custom starburst is 5 feet in diameter, while the Element chandelier is nearly 8 ft. tall and weighs 500 lbs.
---
Glass is a wonderful material for decorative lighting. No other material combines shape, color, texture, light and sculptural form in a single captivating medium. it's also ideal for exploring the relationship between nature and science, which is a favorite theme here at Hammerton
Each of the two fixtures above contemplate this symbiosis by integrating organic and geometric form. Although the 'tesserae' design approaches are similar, the executions — one in cast glass and steel, the other in blown glass — are dramatically different.
---
Industrial-inspired design has always been a favorite theme at Hammerton. Our design team takes enormous pride in elevating mesh, steel, aluminum and other industrial materials well beyond their utilitarian nature. Above, the 96" wide post-apocalyptic steam punk chandelier — initially designed for a 2019 trade show — accomplishes this quite well. The decade-old drum design below, fondly called 'the drainpipe', is still one of our most popular ceiling fixtures.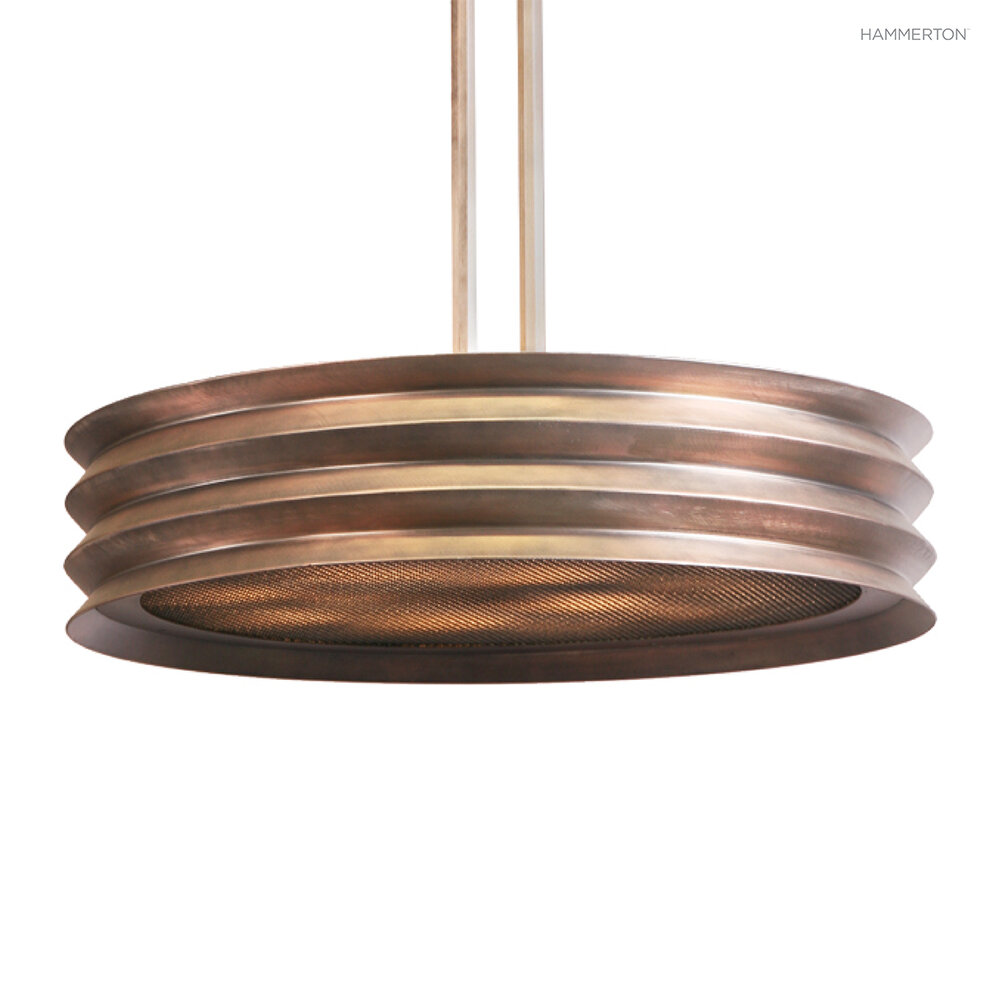 ---
This 42" wide custom linear chandelier, recently completed for the new Oceans restaurant in midtown Manhattan, beautifully showcases the fundamental design principle behind each of these 25 statement chandeliers — as well as everything else we design and build at Hammerton. That principle is simplicity.
At first glance, this fixture design appears deceptively straightforward, but closer inspection reveals a different story. While the mid-century inspired profile and curving lines would be difficult to accomplish entirely in wood, clever design elevates the steel structure to a decorative element, with ample LED lamping discretely directed downward from the slim body.
Says Levi, "Simplicity, executed well, is enormously complex." A lesson well-lived and learned at Hammerton over a quarter century of design.