Rock Crystal Oval Starburst Chandelier
$7,995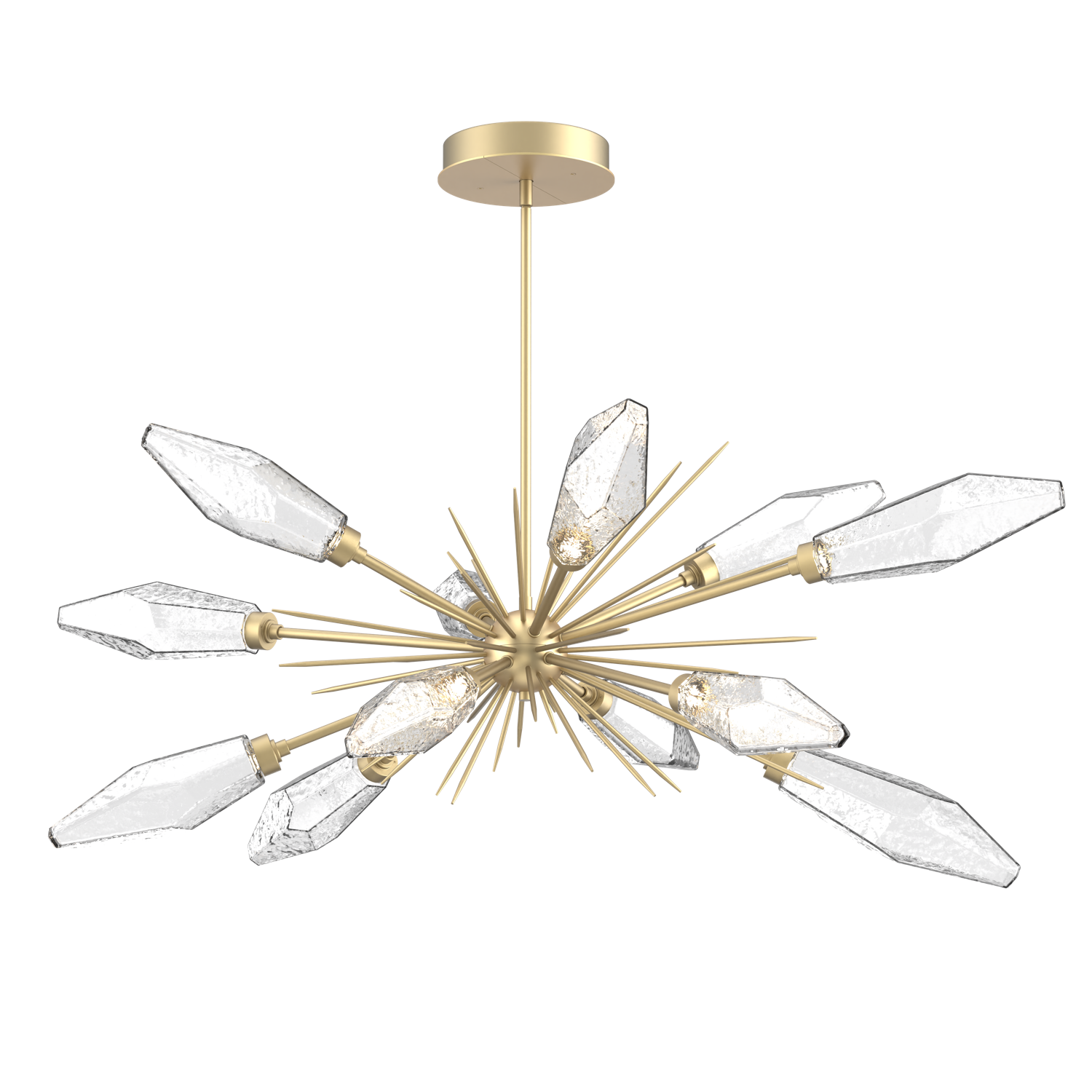 Rock Crystal Oval Starburst Chandelier
$7,995
CONFIGURE YOUR PRODUCT
Capturing the raw beauty of natural rock quartz in LED-illuminated artisan blown glass, the Rock Crystal Oval Starburst chandelier lends visual drama to this classic mid-century fixture style. Look closely at this unique lighting design and you'll notice there's no filament bulb inside the glass. Integrated LED transforms each blown glass shade into a magically glowing light source. Offered in several glass colors and finishes.
See more from this collection here. 
Width

53.4"

Weight

45 lbs

Depth

33.8"

OAH

26.4" - 74.4", adjustable

UL Listing

Dry

Electrical Quantity

12

Electrical Type

Integrated LED

Wattage

21

Color Temp

3000K or 2700K

'Color Temperature' refers to the general color tone of a white light source. Lighting with a lower color temperature will emit warmer orange-yellow tones, while higher color temperatures will emit cooler blue tones. Color temperatures of 2,700K and 3,000K both fall within the range typically associated with traditional filament bulb lamping and are considered ideal for residential and hospitality applications.

Lumens

1565

CRI

93+

'CRI' stands for 'Color Rendering Index' and measures a light source's ability to show colors realistically as compared to natural daylight. For example, filament bulb lamps are typically 95-100 CRI, while a fluorescent lamp can have a CRI as low as 60-65. So the higher the CRI value, the more natural colors will appear.

Estimated Lead Time

Call for Lead Times
Installation Instructions
The Rock Crystal Oval Starburst chandelier blends two iconic interior design styles, the sputnik chandelier and rock crystal lighting, into a singular modern light fixture that makes a statement in any room.
SPUTNIK Chandelier: THE COMEBACK
An icon of mid-century modern design, the starburst chandelier has taken mainstream design by storm because of its nostalgia and surprising versatility.
Named after the first satellite launched into space in 1957, the Sputnik chandelier became a hit in the mid-20th century when the world turned its eyes to the sky. It was an exciting time for exploring new frontiers, including design. Mid-century modern design is characterized by clean simplicity and integration with the natural world, captured by the sputnik's starburst shape. Read more here.
Rock CRYSTAL LIGHTING, REIMAGINED
Hammerton Studio beautifully evokes the visual intrigue of this remarkable mineral in its top-selling Rock Crystal collection. Each light fixture features an innovative blown glass shade design that echoes the faceted shape and unusual texture of naturally occurring crystals. Hammerton glass artisans individually blow these shades using steel molds that are designed and engineered in-house. Scroll through the gallery on the right for inspiration. Read more here.