Tempest
Swirling bands of smooth steel bring an urban aesthetic to this popular collection. Originally a Signature style offered in three Fusion collection fixtures (as seen below, top row), we expanded the style to include pendants, flush mounts, and multi-ports when we introduced it as it's own collection under Hammerton Studio.
Heavy 12-gauge steel, handcrafted construction, and a sophisticated asymmetrical design give Tempest its bold look. No thin metals, no stenciled patterns, no repeats. Extend its potential by adding a frosted glass diffuser or a crisp linen shade to lean more traditional and transitional or keep its industrial feel with exposed bulbs.
Hammerton Signature Fixtures:

Hammerton Studio Tempest Fixtures: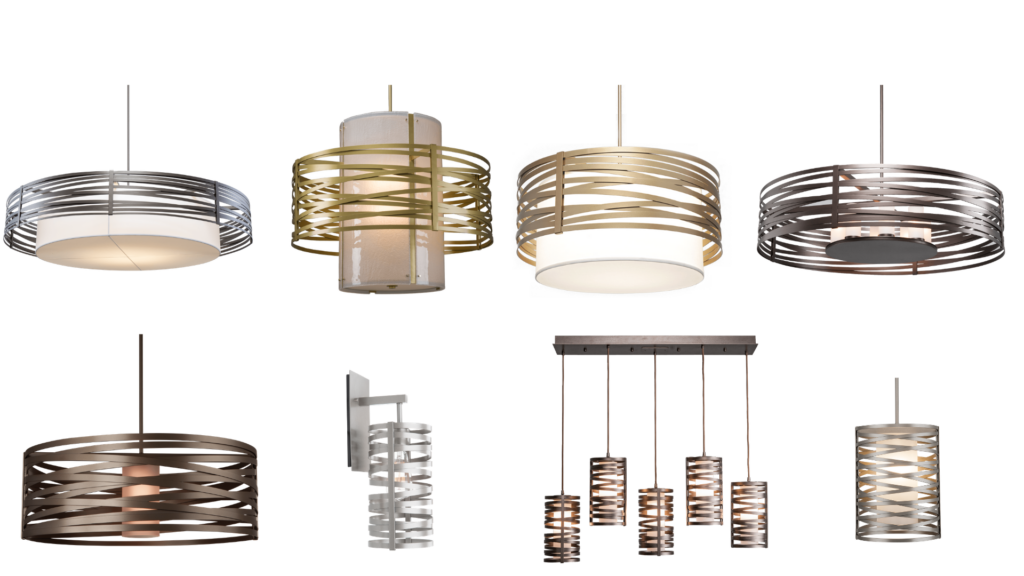 Uptown Mesh and Downtown Mesh
When common materials are used in uncommon ways, the result is often magical. The Uptown and Downtown mesh collections capture the intrigue of this industrial material originally used and exceedingly popular in Hammerton Signature Contemporary fixtures. Mesh emits strength and softness, volume and airiness, warmth and sophistication, all simultaneously, all of which evokes a sleek urban aesthetic that transcends its utilitarian nature.
Hammerton Signature Fixtures: 

Hammerton Studio fixtures: 
IRONWOOD
'Rect tube' – industrial rectangular-shaped steel tubing — is an unusual choice for a modern organic light fixture, but the results speak for themselves in the Ironwood Collection. Our artisans hammer and sculpt this rugged material, transforming each piece into a surprisingly elegant interpretation of the natural world that suits a broad range of interior styles.
Hammerton Signature Fixtures: 

Hammerton Studio fixtures: