Integrated LED Light Fixtures
---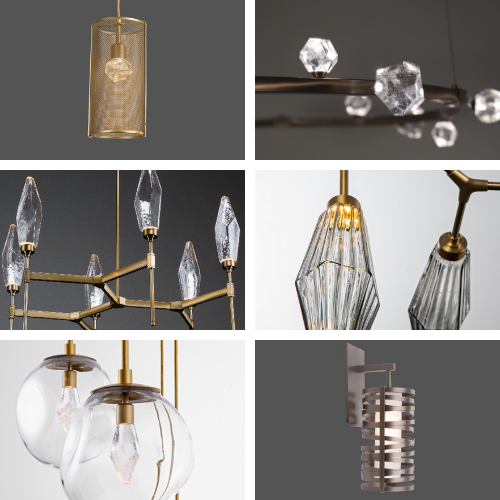 Integrated LED lighting is one of the most frequently requested features for new lights from our customers. Because our superior quality standards demand the best of everything we do, we've partnered with CREE®, a market-leading innovator in lighting class LEDs. Hammerton Studio's LED light fixtures have the only LEDs available with no higher than 2 SDCM, at least 90 CRI, either 2,700K or 3,000K CCT, and are powered by drivers that dim to 1%. So you can rest assured that your fixture will provide the highest quality, natural-looking, and color-consistent LED light available and will operate seamlessly with legacy forward and reverse phase dimmers. Hammerton Studio light fixtures with traditional lamping can accommodate LED retrofit bulbs, including JA8 compliant lamping for CA Title 24.
4 Critical Considerations When Selecting Integrated LED Light Fixtures
Why do SDCM, CRI, CCT, and drivers matter? LED technology can be a mind-bender, but here are the four most critical considerations to keep in mind:
Lower SDCM Means Better Color Consistency
SDCM stands for Standard Deviations of Color Matching, and it's a measure of how consistently LEDs of the same class are able to reproduce the same color. Believe it or not, you can frequently see color differences between LEDs that are ostensibly the same color. The greater the SDCM, the easier it is to see color differences. According to the MacAdam color vision studies, the human eye generally starts seeing color differences at the 3 SDCM level. The vast majority of LEDs used in the lighting industry are 4+ SDCM. Hammerton only uses LEDs that measure at 2 SDCM or lower.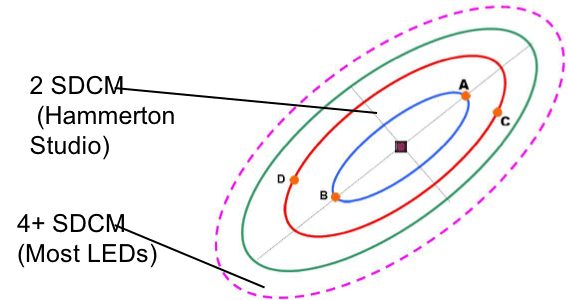 Higher CRI Means Colors Look More Natural
CRI stands for Color Rendering Index and measures a light source's ability to show colors realistically or naturally compared to a familiar reference such as incandescent light or daylight. For example, the CRI of incandescent lamps is 95-100, while cool white fluorescent lamps have a CRI of 62. So the lower the CRI value, the less natural some colors may appear. Many lighting brands use LEDs with CRI values below 90 because they're less expensive and more widely available.

Preferred LED Light Range: 2,700-3,000K CCT
CCT stands for Color Correlated Temperature or Color Corrected Temperature and refers to the tone of white light that is emitted from an artificial light source. A lower CCT of 2,000K is a hotter orange-yellow color, while a higher CCT of 4,000K is a cooler blue color. The range of 2,700-3,000K is the "warm white" color typically associated with incandescent lighting and is considered ideal for most residential and hospitality applications.
Drivers Make the Difference for Dimming
Integrated LED light fixtures have historically struggled when it comes to dimming. Early on in the adoption of solid-state lighting, most LEDs flickered and sputtered when operated by a standard dimmer, while others dimmed only to about 10% of their light output. As it turns out, the driver is what determines a fixture's dimming performance and not the LED itself. Hammerton LED fixtures are powered by high-performance, long-lasting drivers that can be operated by both forward and reverse phase dimmers while dimming smoothly to 1%. This takes the hassle out of retrofitting a space with an efficient LED light fixture.