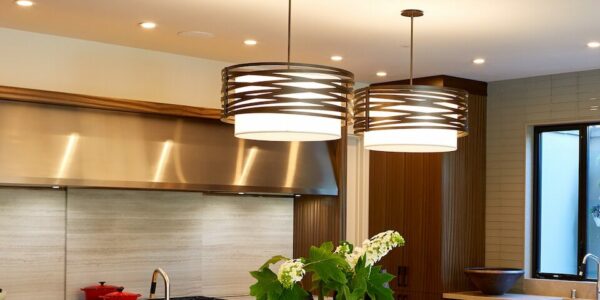 Drum Chandeliers
Your lighting choices can make or break the look and feel of a given space. So it's important to find a high-quality chandelier that properly lights up a space while also complementing its aesthetic. Drum chandeliers are among the most beautiful lighting fixtures and are highly versatile. In fact, it's hard to imagine many spaces where they wouldn't look stunning.
With their sleek, cylindrical shape and modern design, drum chandeliers make a distinctive addition to any room in your home. They're bold enough to stand out on their own but sophisticated enough to complement other design elements in your space as well. Whether you want to give your dining room or your entryway that extra spark of glamour, whether you want to add some modern flair to your foyer or your kitchen, or whether you just want something that looks great in the center of the living room, drum chandeliers are an excellent choice.
Hammerton Studio drum chandeliers go well beyond the traditional white linen drum. We fabricate our drum lights in styles of textured kiln-fused glass, woven mesh, and decorative metalwork, all handcrafted by Hammerton artisans. Most of our drum light fixtures can be ordered with linen or glass cylinder shades. For a more industrial look, select fixtures with exposed bulbs.
Most Hammerton Studio drum light fixtures are offered in sizes from 18″-72″. For most applications, 24"-36" diameter drums are ideal. For larger spaces, Downtown Mesh, Tweed, and Tempest drum chandeliers can be ordered in sizes up to 72".
Showing all 16 results