2 SDCM = Excellent Color Consistency
Basically, SDCM refers to color consistency as it relates to color temperature. Believe it or not, you can frequently see color differences between LEDs that are ostensibly the same color. This is measured in standard deviations of color matching, or SDCM. The greater the SDCM, the easier it is to see color differences. The human eye generally starts seeing color differences at the 3 SDCM level, and the vast majority of LEDs used in the lighting industry are 4+ SDCM.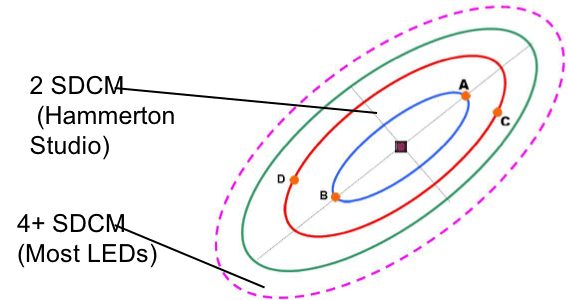 90+ CRI = Natural Quality Light.
"CRI" stands for Color Rendering Index, and measures a light source's ability to show colors realistically or naturally compared to a familiar reference such as incandescent light or daylight. For example, the CRI of incandescent lamps is 95-100, while cool white fluorescent lamps have a CRI of 62. So the lower the CRI value, the less natural some colors may appear. Many lighting brands use LEDs with 70 CRI or less because they're less expensive and more widely available.

2,700-3,000K CCT = Preferred Light Color  
"CCT" stands for Color Correlated Temperature or Color Corrected Temperature, and refers to the tone of white light that is emitted from an artificial light source. A lower CCT of 2,000K is a hotter orange-yellow color, while a higher CCT of 4,000K is a cooler blue color. 2,700-3,000K is the "warm white" color typically associated with incandescent lighting, and is considered ideal for most residential and hospitality applications.
The Driver Difference
Dimming has been one of the greatest challenges faced by lighting manufacturers who incorporate LEDs in their products. The driver, rather than the LED, is what determines a fixture's dimming performance. Early on in the adoption of solid state lighting, most LEDs flickered and sputtered when operated by a standard dimmer, while others dimmed only to about 10% of their light output. Hammerton LED fixtures are powered by high performance, long-lasting drivers that can be operated by both forward and reverse phase dimmers while dimming smoothly to 1%. This takes the hassle out of retrofitting a space with a beautifully efficient LED light fixture.